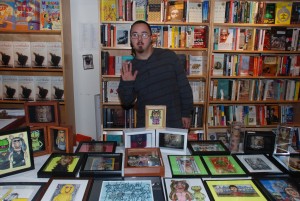 Jonathan Putz: Work. Life. Community.
Jonathan is an artist who has exhibited at MoMA and studied at the School of Visual Arts.  He has been working for the last two years at BookCourt in Brooklyn, and they recently hosted a third exhibition of his work. Last year, Jonathan was awarded a scholarship from the National Down Syndrome Society, which allowed him to expand his education by taking a Photoshop class. Jonathan and his family are making plans for him to move into his own apartment.
A home of their own…
Carlos and Guilermo (Gi) moved into their own three-bedroom apartment in East Harlem after years living in a 10-person group home.  Gi notes: "I can go into the fridge whenever I want."  The third bedroom is for their roommate, Xenia Laureano, who helps Carlos and Gi manage their household.