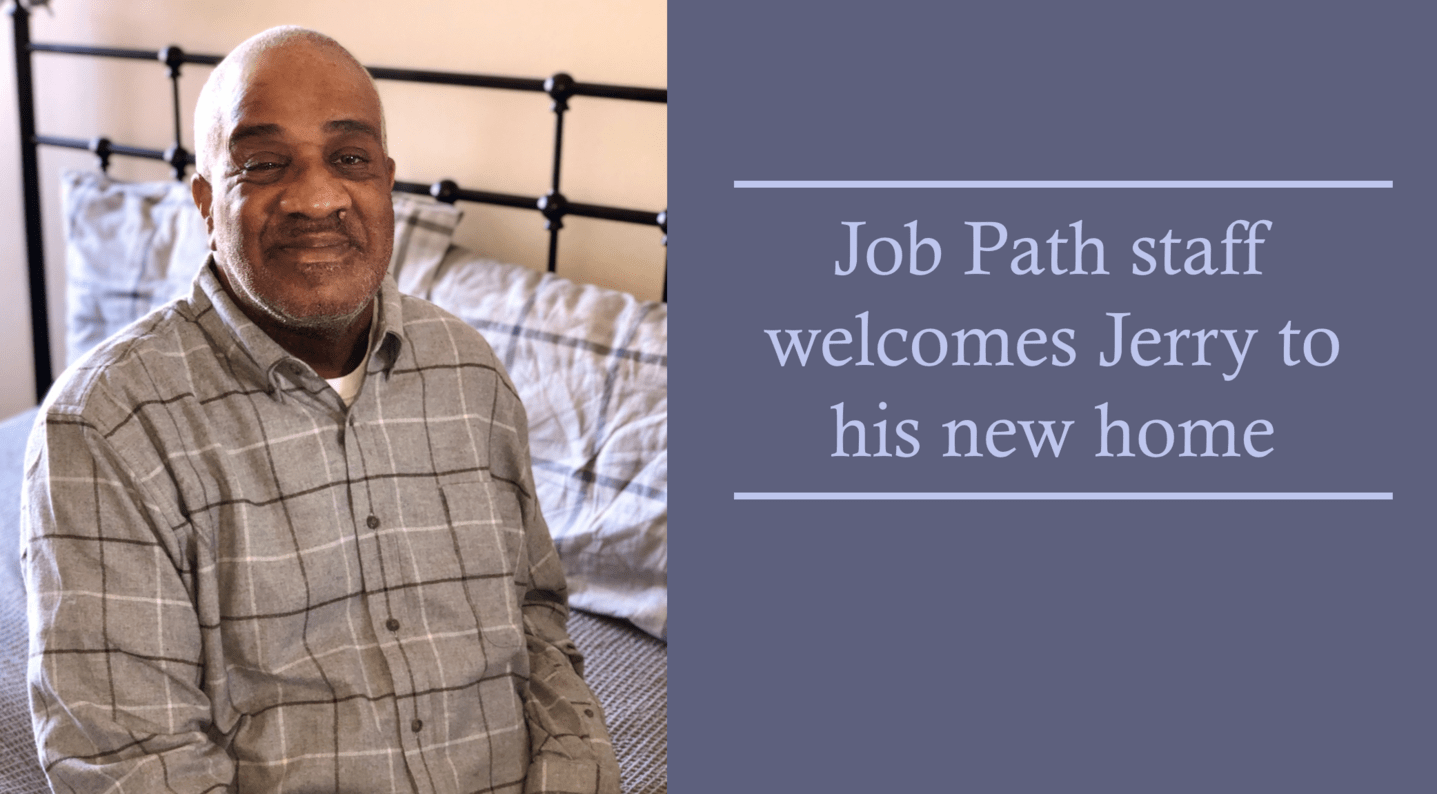 Jerry Canada's story shows how we work: collaboratively, creatively and with a strong commitment to ensuring that there is a job for everyone and a life for everyone. Sometimes this takes a Job Path "village," with staff coming together from across the organization, as was the case with Jerry.
 "Job Path will get the job done."
For close to 30 years, Jerry attended a "sheltered workshop," a facility-based work program.  When the workshop closed, he was referred to Job Path's employment program by a counselor at the state vocational rehabilitation agency who said, "I know you'll get the job done."
When we met Jerry, he lived in a one-room, third floor walkup with a shared bathroom, struggling to manage the stairs since he has limited use of one side of his body.
Intake Coordinator Carolann Granata instantly understood that he needed a new home, as well as a new job, but he wasn't registered for the developmental disability system that could provide funding for a new place. Carolann knew that it would be difficult to get him qualified because Jerry had no family and no records to support his eligibility, but she rolled up her sleeves and started the process.
Meanwhile, Jerry met Employment Specialist, Nadia Khazraee. Through our "discovery" process, she got to know Jerry: she visited his apartment, navigating the same steep steps he encountered; found out he was adept at clerical work and good on the phone; and helped him learn to use the tablet Job Path provided, including how to Zoom.
"He opened the door to his life to us"
Senior Director of Supported Living, Cerezmy Salcido, thought Jerry would make a good roommate for two men her team supported in an East Harlem apartment — and they had an extra bedroom. They invited Jerry to visit in late February 2020, and he announced, "I want this to be my home."
Job Path staff began mapping out a transition plan, applying for state agency approval and funding. Then COVID hit, delaying everything. So the Job Path team rallied to deploy other resources for Jerry, who had been relying on Meals on Wheels for food. Tamesha Coleman and Xanier Laureano helped him clean and organize his space, get groceries, and set up a budget to pay bills, while Nadia searched for a job. Eagerly, Jerry "opened the door to his life to us," said Cerezmy.  Meanwhile, Cerezmy convened an online meeting with Jerry and the Supported Living staff to coordinate on all regulatory requirements and get him ready for the transition.
Finding a job, earning a paycheck
In March 2020, through a personal contact, Nadia connected with the principal of the Hamilton Grange Middle School in Harlem. Just prior to the onslaught of COVID, Nadia and fellow employment specialist Johnadam Haridopolos met with the school staff to discuss an on-site job placement for Jerry. But when the City was locked down,  Nadia realized she would need to focus on remote options.
In the months that followed, Nadia dove into researching the overall scope of remote school needs in addition to specific virtual roles that would suit Jerry's interpersonal skills and clerical abilities, in order to pitch the ideal fit for Jerry to the school.  When she learned that the school was struggling to check in with families around attendance and school events, she knew she found it.
Meanwhile, Associate Executive Director Carly Teichman appealed to the state to approve Jerry's move in advance of the anticipated second wave of COVID. As soon as the move was green-lit, right before Thanksgiving, she worked with Jerry to pick out the furniture for his room. Job Path staff helped him go through his things, replace his aging wardrobe, and pack, while coordinating with Jerry's health clinic to line up his care and medications. They  also prepared him and his soon-to-be roommates for a new shared living dynamic.
 New digs, new gig
The plan finally came together in December 2020 when Jerry was welcomed into his new apartment with shouts and applause from his new roommates and the staff, and a celebratory meal of spaghetti and meatballs, his favorite. His new position as a school aide at Hamilton Grange started the very day he moved in: Jerry phones parents and guardians daily to verify and record student attendance, while inviting them to PTA meetings.
Today, Jerry has much to occupy him, working from home with Nadia's support and participating in Job Path's virtual Book Club, where he enjoys creative writing. During the holidays, he and his roommates baked cookies, celebrated Christmas with a group dinner, and watched the ball drop together. He loves his new place, which has multiple elevators, laundry facilities, and ample room to work remotely as well as stretch out and enjoy his favorite R&B music, movies and shows. He enjoys the company of his new roommates, especially sharing home-cooked meals which is what he missed most in his previous apartment. Since he began interacting regularly with school families through his new job, student attendance has improved, PTA engagement has increased, and Jerry – a popular new addition to the staff – is prominently featured on the school's website!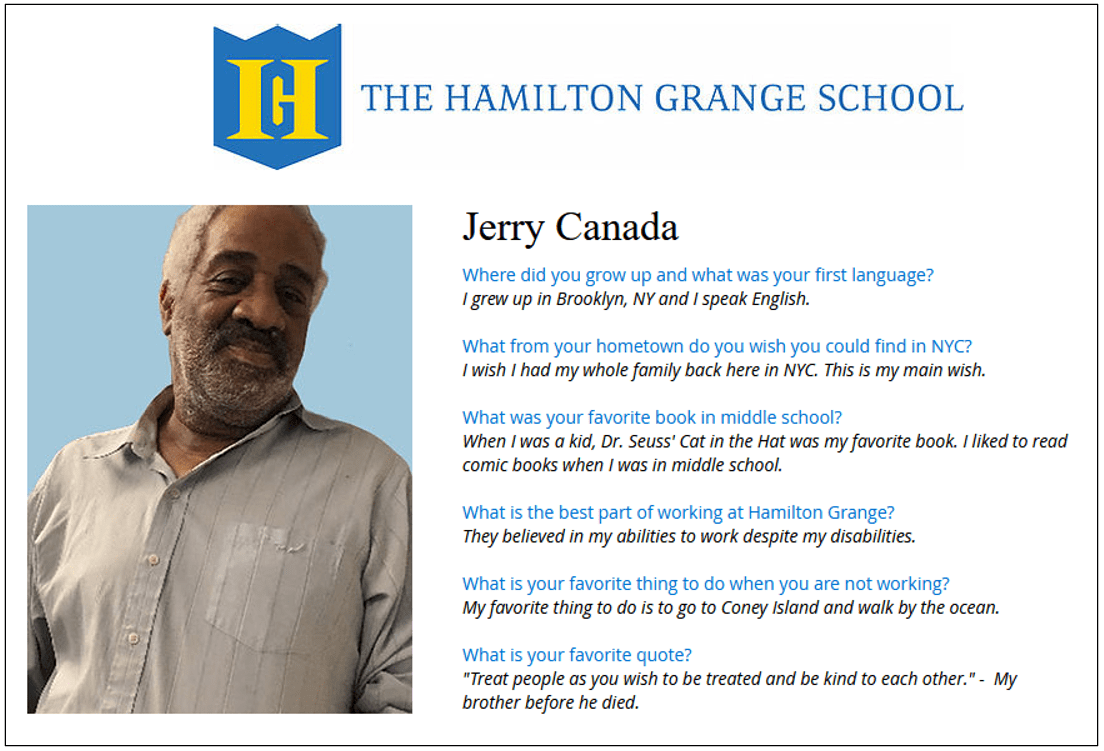 Well-versed in public transportation and booking Access-A-Ride, Jerry has been exploring his new East Harlem neighborhood safely during the pandemic and is excited to ramp up his social life once the virus is contained. In other words, Jerry has a whole new life.  As he told Coordinator Monica Boston,
"I closed the door to the past, and opened the door to the future. "
With your help, we can accomplish more success stories like Jerry's. Please donate so we can continue to ensure that the people we support can find jobs, establish homes, and have a place in their communities in 2021 and beyond.