Job Path Theater Company "Outside Voices" Performs
Job Path's theater group, Outside Voices, performed an original play, What If I Were Whole?  It catalogues the obstacles the group's members have faced throughout their lives, as they've struggled to gain independence, autonomy and respect.  The play was written by the company and spoke directly about what its like to be sidelined. The company performed two nights to a standing room only crowd.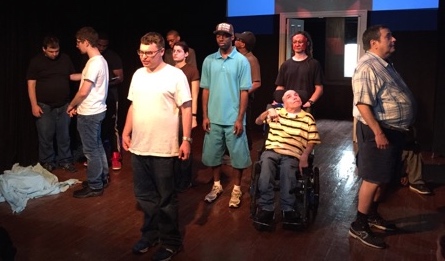 Job Path Celebrates World Autism Day at United Nations
Job Path participated in a World Autism Day event at the United Nations. The call to action for employers featured Job Path's Randy Richardson who is an assistant para-legal at Mayerson & Associates. Click here to watch a short clip that features more people from Job Path.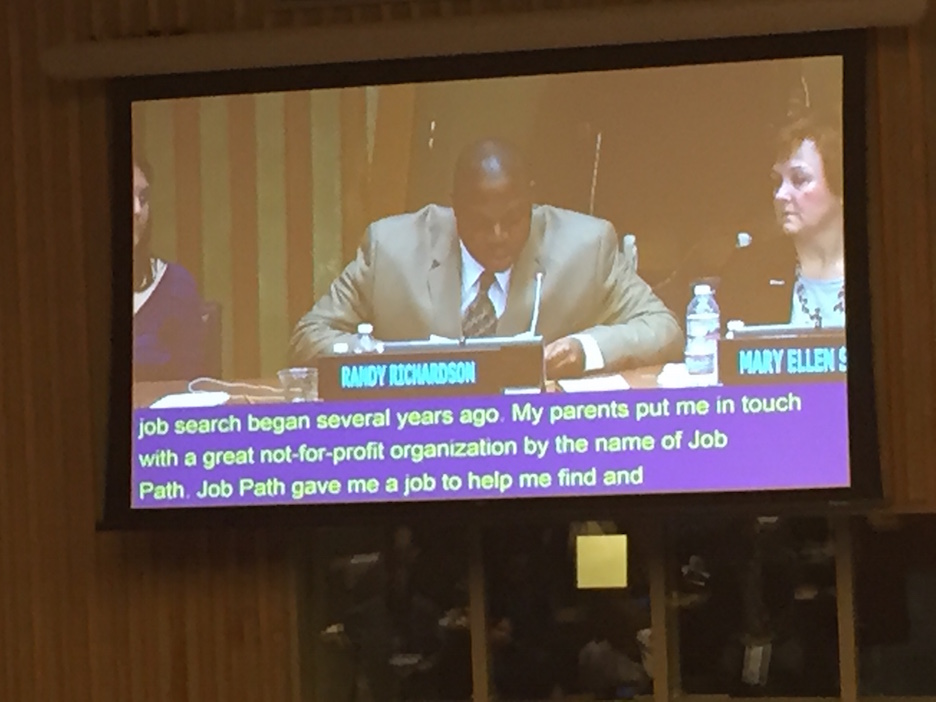 Job Path Featured on WFUV News…
Job Path was recently featured on WFUV news' segment on accessibility. As part of the campaign, Annette Feliciano talks about how she got her  job at Shake Shack with the support of Employment Specialist, Ryan Finger. To read the full article and hear the audio clip click here.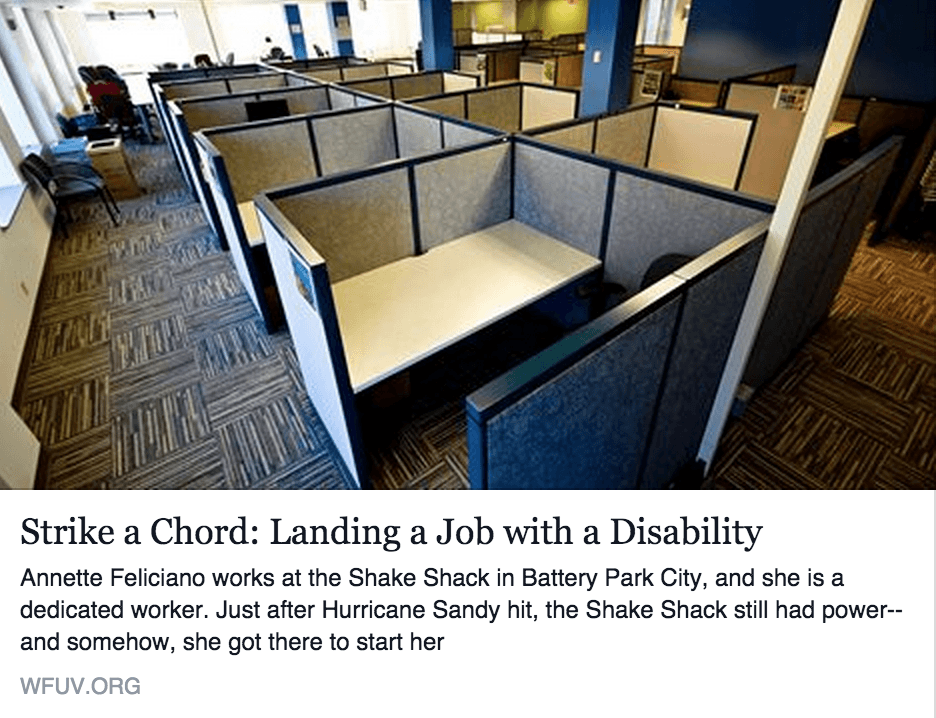 Job Path 2014 Annual Benefit….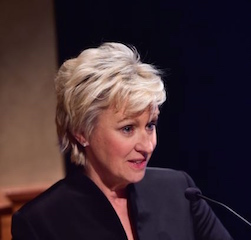 Job Path's 2014 Annual Benefit was co-hosted by Tina Brown & Sir Harold Evans, Robert De Niro & Grace Hightower, and Vicky Ward & Richard Cohen. This year we had a panel discussion, "Nothing Works Like Working", with parents sharing their experiences of what Job Path has meant for their children.  The Employer of the Year was The New School and the award was accepted by President, David E. Van Zandt.
To watch a short clip from the benefit, click on the photo below.
Jonathan Putz: Work. Life. Community.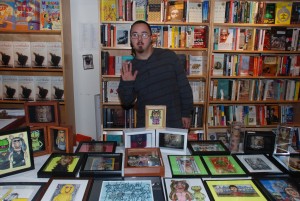 Jonathan is an artist who has exhibited at MoMA and studied at the School of Visual Arts.  He has been working for the last two years at BookCourt in Brooklyn, and they recently hosted a third exhibition of his work. Last year, Jonathan was awarded a scholarship from the National Down Syndrome Society, which allowed him to expand his education by taking a Photoshop class. Jonathan and his family are making plans for him to move into his own apartment.
Carlos and Guilermo (Gi) moved into their own three-bedroom apartment in East Harlem after years living in a 10-person group home.  Gi notes: "I can go into the fridge whenever I want."  The third bedroom is for their roommate, Xenia Laureano, who helps Carlos and Gi manage their household.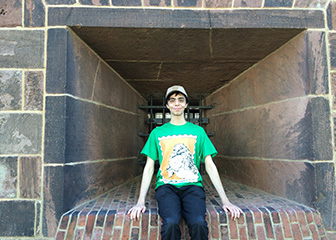 Job Path's project for Figment Festival 2014 at governor's Island was PostAbility. Our post office had a sign:
Welcome to the PostAbility Community Post Office. We are a group of individuals from the five boroughs of NYC, coming together to facilitate an interactive art, communication and story-sharing project.  Receive a letter from a stranger written just for you, and share your own story or artwork in return via the PostAbility post-station.  
News Corp awarded Job Path a $25,000 grant through their corporate giving initiative to support our Career Launch Program: Building Skills for Life.  For more information on our Career Prep and Career Advancement Classes contact:  kroberts@jobpathnyc.org.
Randy got his job at a law firm with the support of a job coach. Job Path is now on CrowdRise.  www.crowdrise.com/jobcoach. For every $50 raised a job seeker like Randy receives one hour of job coaching. For every $1,000 raised, another person is launched into the workforce.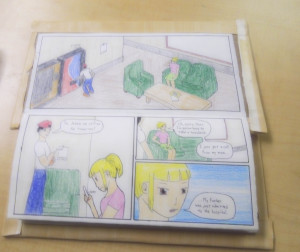 Job Path's art group had a reception for their Handmade Books exhibition which featured works by artists who created stories and designed book covers. These pieces by Peter Dommermuth were among those displayed.